We track thousands of companies in the virtual reality industry and turn our data into insights for innovating companies. While most of our data products are available for purchase, we always like to point people to stats that are publicly available and speak to the growth of the overall industry. Here are a few of our favorites:
Digi-Capital
Digi-Capital forecasts that the virtual and augmented reality industries will hit $150B in annual revenues by 2020, with AR taking the lion's share at $120 billion.
CB Insights
CB Insights reports that investments in virtual and augmented reality companies have seen their most active quarter in 2015, with over 40 deals (and $240M invested) in the first six months of the year.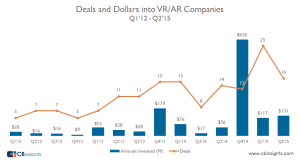 ABI Research
ABI Research projects that 43 million virtual reality devices will ship by 2020:
To learn more about the above studies, visit:
http://www.digi-capital.com/news/2015/04/augmentedvirtual-reality-to-hit-150-billion-disrupting-mobile-by-2020
http://www.cbinsights.stfi.re/blog/virtual-augmented-reality-funding
https://www.abiresearch.com/press/wearable-computing-devices-like-apples-iwatch-will
**********
Want to perform your own analysis? Greenlight VR's market intelligence platform helps you track leading companies, find innovative ideas, and create disruptive strategies faster and smarter. Learn more at www.greenlightvr.com.