Following a slew of major product updates and announcements at its annual developer conference, MAX, Adobe continues a years-long trend of subtly but aggressively expanding its offerings into the realm of 3D. Beginning with small but meaningful updates to legacy apps (like the addition of the Skybox 360 video plugin to Premiere Pro) to new products altogether (such as the release of 3D photo mockup editor Adobe Dimension), the company has rounded out 2019 with a heavy focus on expanding out of its largely captive market of 2D design and image tools.

Aero was among the most anticipated releases at MAX 2019, after the company first teased the mobile augmented reality authoring tool at MAX 2018. While many of Aero's capabilities were revealed during its private beta period earlier in 2019, Adobe executive leadership took the stage at this year's event to clearly illustrate its positioning for the product and greater implications for AR.

Aero, like many other Adobe products, is a visual authoring tool, which will launch primarily on mobile computing devices (as an iOS exclusive). Users will be able to import various models and assets into a 3D scene and control typical effects and characteristics such as movement, animation, transformation, as well as elements exclusive to AR, such as spatial anchoring and environment-aware lighting. All of this is possible without the use of coding on the user side.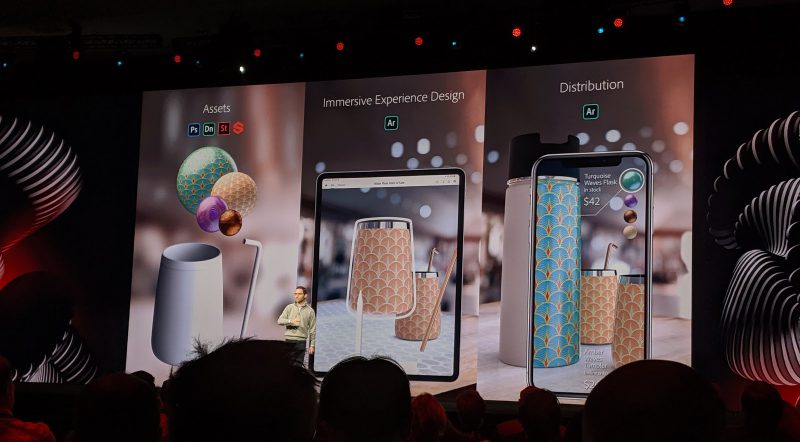 With Aero, Adobe proposes an AR creation pipeline; Adobe is investing heavily in creating an entirely new pipeline for the creation of 3D content. The market for 3D scene and asset creation itself is still heavily contested by longstanding applications from indirect competitors such as Autodesk Maya and Maxon Cinema 4D. However, Adobe's ongoing commitment to expanding its product catalog will soon result in a highly versatile and tightly integrated suite of tools for AR content. Aero serves as a seamless and highly intuitive endpoint from which designers and creative professionals will be able to design, build, and distribute interactive AR content as well as simple video demonstrations.

Critical Guidance
Adobe's main goal with Aero is to change what it means to be an "AR developer". By significantly reducing the barriers to entry for augmented reality content development, Adobe simultaneously empowers its existing user base of creatives and professionals in the media and advertising industry and attracts aspiring design professionals in these fields to adopt Creative Cloud and Adobe products into de facto workflows for next-gen AR content creation.

Aero will enable dozens of new positions outside of IT or computer graphics to engage with augmented reality. Adobe posits several enterprise use cases ideally suited for a small-footprint AR solution which is highly scalable; logistics and operations for storefronts would benefit from mobile AR for navigation and layout organization of retail floors. Graphic designers would be able to provide rapid turnarounds on engaging AR experiences for immersive advertising.

Design professionals should work to identify similar use cases where shallow but broad AR on a familiar creative platform would bring significant value, in order to assess whether Aero is a meaningful addition to an existing content workflow.