Since Apple's introduction of ARKit on June 5, technology, entertainment, and marketing executives have become increasingly focused on the future augmented reality products will be revealed by the consumer electronics giant. With all this in mind, this article compilation of Apple's hardware and software philosophies for the future of AR outlines some of the major considerations in bringing such a device to market.
Hardware
Obviously, technological advancement has come extremely far since the early days of XR development. The technology which powered the Sword of Damascus is now commercially available and several orders of magnitude more advanced. However, one need only look to current devices on the market to determine that building key components such as:
Apple must balance these considerations all while maintaining viable battery life and delivering at a reasonable cost is a herculean task that will put every part of Apple's hardware infrastructure to the test.
Operating System
While the precise details of Apple's new device is not known, Cook's recent statements characterizing AR makes Apple's vision for the operating system clear. An AR HMD whose operating system (known as Reality Operating System, or rOS) will be built on existing ARKit framework could conceivably ride the same wave of success as its predecessor, the iOS 11 handsets.
Like ARKit, the company is aiming for discrete AR technology which is accessible to and functional for a wide audience:
"...It will be enabled in the operating systems first, because it's a precursor for that to happen for there to be mass adoption of it… I do think that a significant portion of the population of… eventually all countries, will have AR experiences every day, almost like eating three meals a day, it will become that much a part of you… Over time, I think [these features] will be as key as having a website."
In the same way that ARKit produced excitement in the industry by delivering rich content creation frameworks (which in turn has already yielded rich content), the release of an AR headset will facilitate the integration of AR into existing media ecosystems.
What's Ahead
Interestingly, Tim Cook doesn't appear too worried about the minutiae of headset components:
How long will [the technology] take? We don't give a rats about being first, we want to be best in creating people's experiences. Something that you would see out in the market any time soon would not be something that any of us would be satisfied with.
Thanks to strong brand positioning, a tightly coordinated hardware and software product strategy, and a vast retail operation, Apple Inc. is used to capturing significant shares in the new markets it enters. However, despite what the most optimistic evangelists would have us believe, a discrete, fully-realized AR headset for the consumers is still years away.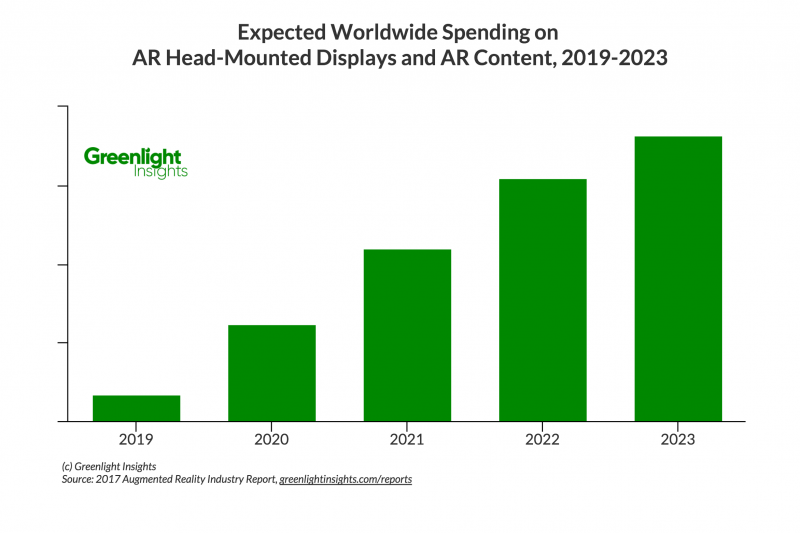 Greenlight Insights forecasts spending on AR head-mounted displays, consumer content, enterprise applications, and related services will grow at a double-digit compound annual growth rate (CAGR) over the next five years. The growing integration of technology & digitalization of industrial, manufacturing, sales and marketing, and training processes, increasing corporate IT expenditure, and focus on productivity are some of the key factors driving the increasing adoption of AR technologies.
Having said this, Apple is in an extremely enviable position; ARKit has galvanized both developers and brands, with consumers poised to follow suit. At the moment, no tech firm is currently better equipped to take on the task. And barring some incredible upset from competitors, Apple should see it's way clear to developing this technology in a scalable and consumer-friendly way.
To learn more about Apple and the development of the larger AR marketplace, as well as Greenlight Insights' outlook on the future of the augmented reality technology sector, order the 2017 Augmented Reality Industry Report.