This week BBC announced that it will be releasing interactive VR videos as part of their continued involvement in VR and 360 degree video. The Hollywood Reporter wrote that the company will be releasing three different VR storytelling experiences, two of which will be released at Sheffield Doc/Fest 2016. BBC has produced different 360 degree videos in the past for BBC News, Strictly Come Dancing and Natural History.
BBC R&D Controller, Andy Conroy, said the BBC uses "technology to help the BBC remain relevant over 5, 10, 15 years." Publishers are pushing to be on the forefront of new media.

Joining New York Times, Gannett Group and Frontline PBS, the BBC's leadership in the industry with multiple VR project releases could be a huge breakthrough - both for the journalism industry and the UK market.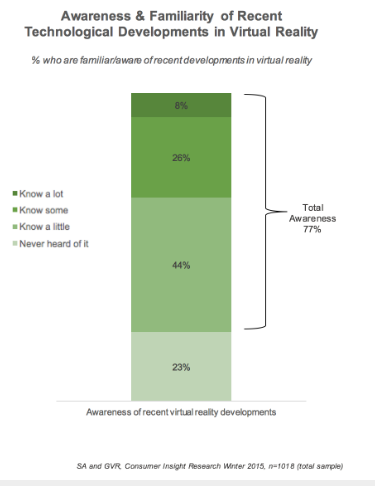 In January 2016, we partnered with SuperAwesome to release a consumer report on the VR market in the UK, which analyzed consumer trends for virtual reality products and experiences. We found that overall, 23 percent of UK consumers never heard of VR and 44 percent knew only a little about the industry. As a major UK media company, BBC has an influential impact on British culture. An investment in VR experiences could help the public have a better understanding of VR. The UK Consumer Report also found that 58 percent of Generation Z (ages 10-17) would like to try fully immersive VR movies, while about 36 percent of Millennials and Generation X (ages 18-50) showed interest. Research indicates that there appears to be a market for a focus on this type of storytelling and BBC can potentially pave the way for other media companies to produce experiences like this on a mainstream level.
For our latest consumer research, order our 2016 Consumer Adoption Report, which will be released on June 17. For more on upcoming research, sign up for alerts whenever new research is released.