Just ahead of GDC, Beat Games announced Beat Saber sold a million copies, released a Monstercat music expansion pack, and announced that it would be an Oculus Quest launch title. The rhythm game shows no sign of slowing down.

---
The remainder of this analysis is restricted to Intelligence Service subscribers. Contact us to receive our Intelligence Services.
So far, Beat Saber is arguably VR gaming's greatest success story. The title was a viral hit even before release. According to Greenlight Insights' content tracker, the second highest selling VR game is Job Simulator, which has sold approximately 436,000 copies. Not only did Beat Saber outpace this figure by more than double, it did so in less than a year.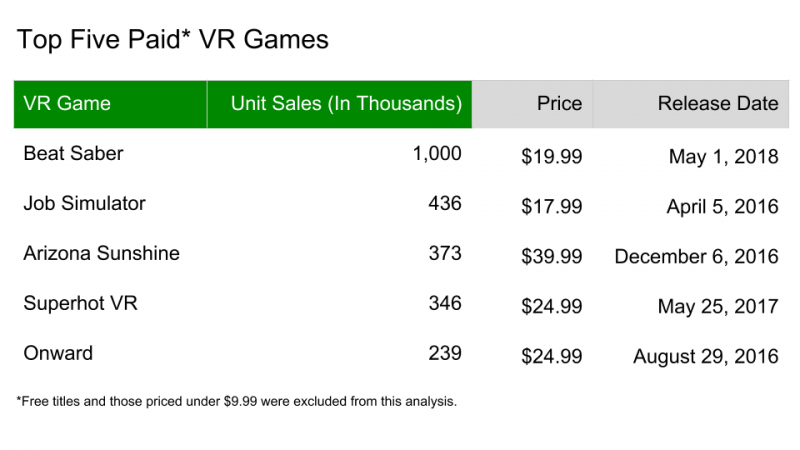 Why is Beat Saber — still — popular?

Beat Saber has become a VR music platform, much more than a simple game. The gameplay alone cannot account for the game's enduring appeal among both streamers and gamers, especially since similar VR rhythm games have failed to gain comparable traction. Instead, a healthy supply of new content and songs from both Beat Games and the third-party modding community keeps things interesting. Without the stream of new content, Beat Saber's popularity would have lost traction.

A similarly compelling xR app, Pokemon Go, saw a decline in traction quickly after launch. At its peak, in July 2016, 28.5 million U.S. users were playing Pokemon Go daily. It quickly fell to 5 million by December 2016; Niantic failed to keep its user base engaged by making players wait for new Pokemon or other additional content until February 2017. Many users were tired of catching the same Pokemon or had simply 'caught them all'. After the new update release, daily active users grew, but the new gameplay did not recoup all that was lost.

With the help of a thousand-strong modding community Beat Saber's content is never finished, and its potential for growth extends well beyond the capability of what a small studio can do alone. Although the game's sales have yet to approach those of extremely successful properties like Fortnite, Minecraft, and Call of Duty, the continuous updating and refreshing of content is a consistent post-release practice, characteristic across these and many other popular titles. Players not only invest in these games, but play them routinely and continuously, building a community. This has specifically made Beat Saber a stand out VR title.

Future of Beat Saber

In the coming months, Oculus Quest will hit the stores with Beat Saber among its launch titles. The port is highly valuable to the coming platform as a top-selling VR title with an active community. Gameplay is also ideal for new players; the game is intuitive without the need for a tutorial. The accessibility and replayability of Beat Saber will likely contribute to Quest's monthly and daily active users, in addition to sales.

The continued success of Beat Saber on Quest will also bring additional development back to the game, potentially even producing new gameplay like player-vs-player, feeding into the development of esports competitions in the out-of-home sector.