Best Buy pulled back on availability of Oculus Rift demos in stores this month. The consumer electronics giant has stopped Rift demos in 200 out of the 500 locations.
Oculus spokeswoman Andrea Schubert confirmed demo closures, citing "seasonal changes," but store associates have said there has been little demand for the demos and minimal sales of the VR headset.
Oculus Rift is still a niche consumer device. The high price point, complicated setup and expensive computer specifications required to run the experiences limit the potential customer for the headset. Out of more than 1,200 consumers, 16 percent reported interest in purchasing a high-end tethered headset ($700+), while 33.7 percent said they were interested in mobile headsets ($100+) in Greenlight Insights' 2016 Virtual Reality Consumer Report.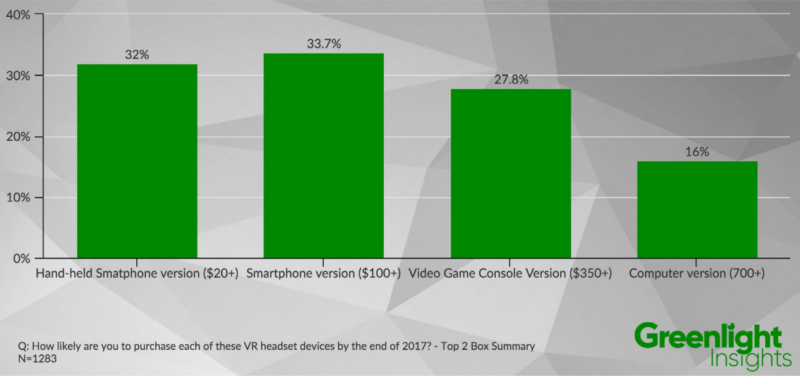 Consumers who tried VR, according to a survey from Greenlight Insights, said they have tried Samsung Gear VR more than any other headset, with 41.9 percent experiencing a Samsung Gear VR headset compared to 29.8 percent experienced with Oculus Rift. Samsung announced at CES that they sold five million Gear VR headsets in 2016, and remain positive about 2017. Consumers will continue to lean towards the low-cost VR headsets until the price is lowered or worth the investment for high end experiences. Respondents of Greenlight Insights' consumer report identified price, quality, and quantity of content as the top purchasing influencers.
Out of more than 1,200 consumers, 33.7% said they were interested in mobile headsets ($100+) Click to Tweet
This can happen through consumers trying VR experiences, but store demos are not the only way, and may not be the best. Trying a new technology, though exciting, can be intimidating and PC-based VR headsets are not the most user friendly device to set up. Even if consumers like the experience and are interested in purchasing, there will need to be more education regarding purchasing a compatible computer and using the Rift. Image conscious consumers are also aware that they are wearing a helmet, unable to see the people watching their interactions with a virtual world. Private demos will help consumers feel more comfortable experiencing a new technology and having a better time getting lost in the experience.
In the end, VR is an emerging technology. Interactive VR headsets have only begun selling in late 2015. Best Buy's pull back on in-store demos does not signal the end but rather the reality of a niche early adopter market of a new industry.
New Study To Measure Changing Consumer Attitudes
Since 2015, Greenlight Insights has measured consumer attitudes towards virtual reality – how has sentiment changed, what's most engaging, what's the future of monetization, and much more. Now in its third year, the 2017 Virtual Reality Consumer Adoption Survey provides empirically-based insights into a broad scope of topics relating to consumers and virtual reality. If you'd like to learn more about the report, visit greenlightinsights.com/reports/2017-virtual-reality-consumer-report.