Greenlight VR is happy to announce the release of the most comprehensive industry report written about virtual reality. Created in partnership with UploadVR, the VR Industry Report: July 2015 is 135 pages of market intelligence and analysis, answering the most important questions investors and executives have about this fast-growing industry.
Gain an information advantage with key insights on the following:
A History of Different Eras of Virtual Reality
The Global VR Ecosystem --YoY Growth Benchmarks & Forecasts, Emerging Markets, Country Profiles
The VR Investment Landscape --  Investment Trends, Investor Habits, Underfunded Sectors
Content -- Distribution Platforms, App Pricing
Design Best Practices, Tools & Workflows
.... and more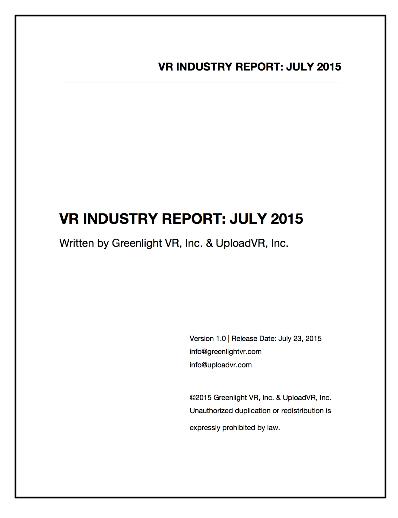 Want a free sample? Click the button below:

Want to perform your own analysis? Greenlight VR's market intelligence platform helps you track leading companies, find innovative ideas, and create disruptive strategies faster and smarter. Learn more at www.greenlightvr.com.