Thoughts by Analysts Alexis Macklin and Colin McMahon 
Last week, HTC announced its first mobile-based VR headset, Link. It is the first mobile-based headset to incorporate 6DoF and will be made available exclusively in Japan later this year.
This is the second of two recent non-Vive headset announcements from HTC. HTC also announced an all-in-one headset in collaboration with Google. The two headset announcements showcase the company's desire to be a dominant hardware player in VR space.
The Japan-exclusivity is at first odd, given the headset's impressive 6DoF capabilities. The headset can serve as a tool for the country's developing location-based VR entertainment scene. Despite its proximity, location-based VR entertainment in Japan lags far behind China. It is much more comparable to South Korea where regulations have slowed the adoption. Nevertheless, location-based VR is poised for a takeoff in Japan. Unlike Europe and North America, traditional arcades still have a presence and VR can be integrated easily into the existing infrastructure. HTC's Link may provide another platform to spur location-based VR growth.
While HTC's smartphone business has been struggling, HTC has reported positive traction in Japan, beginning with HTC 10 released last year. The addition of a mobile HMD with 6DoF could help HTC gain momentum in the market. Link is only compatible with HTC's U11 smartphone, forcing interested consumers to invest in two products. This could boost U11 sales but could also harm traction for Link. After the initial excitement of a mobile HMD with a controller, Google Daydream ultimately failed to gain major consideration among consumers. So far, Link does have an edge of being the first mobile headset with 6DoF, but competitors are on the horizon.
Learn why Japan may be one of the emerging virtual reality industry's biggest and brightest markets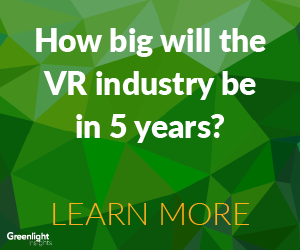 Since June 2015, Greenlight Insights has published the annual Virtual Reality Industry Report with the editorial contributions of the industry's leading analysts and authorities.
This year, the Industry Report is co-written with RoadToVR, the world's largest independent news publication dedicated to the consumer virtual reality industry, as well as contributions from iResearch (China) and MoguraVR (Japan).
Available now, the 2017 Virtual Reality Industry Report includes Greenlight Insights' 5-year global hardware and software forecasts the foreseeable effects following the introduction of new headsets.