Last month, Virtual and augmented reality were the highlights of Facebook's F8 Developer Conference. Among all the announcements from Mark Zuckerberg and Co., Facebook Spaces, a new VR social platform, arguably stole the show.
So how does Facebook Spaces work?
With an Oculus VR headset and Touch controllers, Facebook Spaces allows a user to:
Hang out in VR with up to 4 real-life friends (as 3D avatars)
Interact with Facebook Messenger users through video calling and media sharing
View and share 360-degree photos and videos
Check out 2D Facebook content within virtual windows
Draw 3D doodles
Take avatar selfies using a VR selfie stick
In its current form, Facebook Spaces is a long way off from the Second Life-like, fully immersive experience many envision. However, Facebook Spaces will likely appeal to Gen Z, a generation that values things like real-time interaction, collaboration, and gamification as part of their social networking experience.
Why should brands care about Facebook Spaces?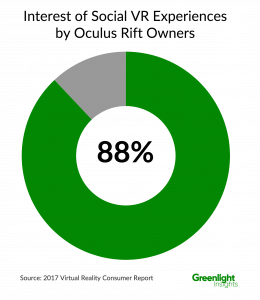 According to this year's annual Virtual Reality Consumer Survey conducted in April 2017, 88% of Oculus Rift owners are highly interested in social VR experiences. Moreover, two-thirds of Rift owners say would use a social platform every day.
For marketers, there may be PR value in becoming a first-mover within Facebook Spaces, just there is currently with branded 360-degree video and branded content. We can expect branded stickers, 3D objects, 360-degree content and more to start rolling out in the coming years. While Facebook has not announced plans to productize Spaces, brands can currently publish their 360-degree photos and videos on Facebook in the hopes that users will choose to view it within the Spaces experience.
The bottom line:
Despite the high-level of interest in social VR experiences, Space's initial focus on a high-end, 6DoF HMD consumer population. Although Spaces will eventually open to other 6DoF headsets, including HTC Vive, high-end mobile, and cardboard headsets will outsell the other headsets by more than double according to our latest global VR headset forecast in the 2017 Virtual Reality Industry Report. Therefore, for the near-term, Facebook Spaces will have a limited total addressable market for the social VR app.