This month, Intel, CBS Sports, Turner Sports and the NCAA teamed up to broadcast six March Madness playoff games in virtual reality, including Monday's NCAA Men's Championship Game at the San Jose's SAP Center. (Congratulations to the North Carolina Tar Heels who defeated the Gonzaga University Bulldogs 71-65.)
Technology, consumer electronics, and media companies are all beating big that streaming big events live in VR will be central to the non-game VR experience. Alexis Macklin, Analyst with Greenlight Insights covering emerging technology trends at the intersection of VR AR, and the entertainment industry, notes, "As a relatively new market, we're still 4-5 years away from Live VR developing into a major media market, but we explain in our latest report that the market will grow at higher 5-year CAGR than the overall VR gaming market."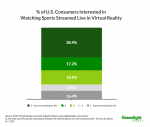 According to our last VR Consumer Survey, 56% of 1,300 U.S. respondents report being highly interested in watching sports using an HMD. Live sports could be key to getting people hooked on virtual reality.
However for live events to be come a major media market, several important developments must unfold. Among them, there are several key components of the value chain missing between capturing live VR video to producing real time streaming and displaying content that is of a consistent high-quality, such that it can effectively act as a complement to the big screen or mobile experience.
Greenlight Insights' analysts produce an advanced forecast service designed to provide a complete, comparative view of the five-year hardware, software and services forecasts for direct and indirect consumer content in several global regions.
Read more about the future of live streaming in VR, market forecasts and exclusive analysis in the Virtual Reality Industry Report, Spring 2017.