In its continuing crusade to bring high-end graphics capabilities such as DLSS and ray-tracing to the masses, Nvidia announced on July 3rd the official release of its new line of consumer GPUs, the RTX Super line. According to new official specifications, the cards will significantly outperform the previous generation of RTX cards (released in January) thanks to an increased number of cores and upgraded video memory.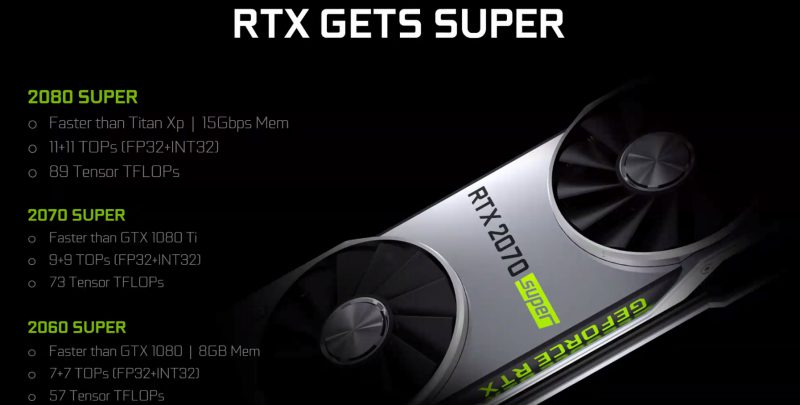 The Super line is also enjoying additional momentum following announcements at Electronic Entertainment Expo 2019. Major studios confirmed ray-tracing support on a number of new and anticipated titles at the expo, including Cyberpunk 2077 and Watch Dogs Legion. As the holiday season approaches, both major GPU companies Nvidia and AMD are ramping up offerings to offer as much choice as possible to enthusiasts and gamers. AMD's own latest flagship, RX 5700 (sporting its hotly anticipated Navi architecture) will reportedly undercut even the cheapest Super card on price, further complicating the choice for consumers who have yet to be sold on the long-term impact of ray-tracing.

RTX vs. Super in VR
While Nvidia touted the first iteration of its RTX cards and new Turing architecture as a future-proof solution for upcoming improvements to graphics, the release of Super demonstrates a more compelling proposition for midrange and high-end gaming customers who wish to play titles with ray-tracing support. Improvements to hardware and configuration in the RTX Super cards provide additional value not only over January's GPUs, but over older GTX cards as well. Owners of a higher-end GTX card who weren't interested in ray-tracing (which remains a relative niche feature among consumers) saw little reason to invest in RTX hardware.

VR users will need additional convincing on the technology, given the documented difficulty of implementing such features in VR, where rendering loads are traditionally far greater due to the need for stereoscopy. VR users then, will be eminently better served by investing in an RTX Super card; the improved specifications provide additional peace-of-mind for gamers who simply want a meaningful hardware upgrade, while the inclusion of Tensor Cores and other proprietary technology from Nvidia delivers on the company's own promise of future-proofing in other graphics processing applications.
Analysis and Critical Guidance

Greenlight Insights has previously commented on the breakneck pace of the graphics industry and its driving effect on the VR industry. Even as Nvidia's approach to innovation saw its revenue projections negatively affected due to overestimation of demand, the company has inarguably made significant progress towards further improving the photorealism of synthetic environments. Realistic environments are even more critical to the advancement of VR technology than traditional graphics, due to the nature of VR interfaces.

VR stakeholders must pay close attention to the movements of the GPU market. While standalone VR hardware garners increasing excitement from consumers, the market for such devices is comparatively narrower than the older, PC-tethered VR market. PC VR continues to be a compelling choice for high-end consumers and certain enterprise applications. Stakeholders can
reasonably expect the performance of the Super line in the market to improve on that of previous RTX GPUs, but its ability to compete with AMD's Navi cards in terms of unit shipments will provide a decent barometer for consumer sentiment regarding Nvidia's "killer" features.