Virtual Reality Industry Report, Fall 2016
The Virtual Reality Industry Report includes everything you need to know about hardware unit forecasts, market revenue forecasts, industry & technology analysis, and other special topics for industry executives.
---
Release Date: November 14, 2016
---
---
This report is available only to Subscribers
Already a Subscriber? Login Now.
Research, Data & Analysis Provided By
---

---

---
Everything You Need To Know In One Report
Each Greenlight Insights report offers proprietary insights provided by our category focus, mosaic approach, and rigorous research methods. Rather than rely on biased opinions and secondary sources, we let our data tell the story.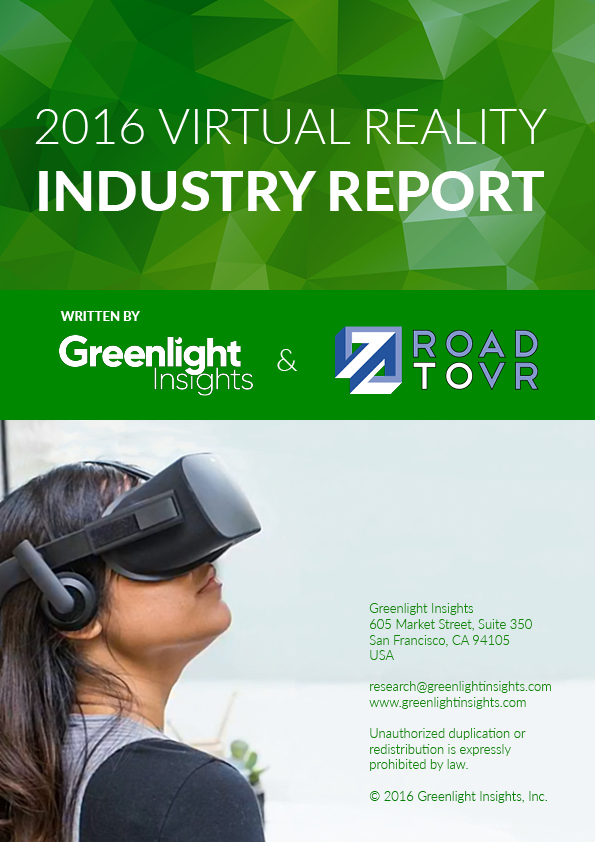 Since June 2015, Greenlight Insights has published the annual Virtual Reality Industry Report with the editorial contributions of the industry's leading media publishers.
This year, the Industry Report is written with RoadToVR, the world's largest independent news publication dedicated to the consumer virtual reality industry.
The Virtual Reality Industry Report: Fall 2016 highlights:
Summary of Greenlight's new market segmentation framework
Foreseeable effects following the introduction of new headsets
Insights on how recent events are transforming the technology and market landscape
Analysis & review of new M&A/Investments
Greenlight's opinion on the virtual reality segments that exhibit the highest long-term potential
WHAT'S IN THE DATABASE?
We keep tabs on every venture funding deal so you don't have to. Our comprehensive VR/AR Funding Database product can help you identify potential targets for acquisition or business development, assess competitors, and develop management reports and analyses on virtual reality.
Learn more about the VR/AR Funding Database.
Get trusted industry research
Plus, subscribers receive PDF copies of reports covering industry trends, access to Global Forecast Service and Proprietary Databases, and full-access to our senior analysts.
---