xR in Enterprise Training 2018
Virtual and Augmented reality provide safe, cost effective, engaging, and efficient training platforms for organizations in diverse industries to increase productivity and improve service delivery.
Industries as diverse as automotive manufacturing, consumer retail and healthcare delivery are using virtual and augmented reality technology to realize productivity gains and invented service models. Organizations that succeed in harnessing XR-enabled training will lead. Those that don't may be at a serious disadvantage.
---
---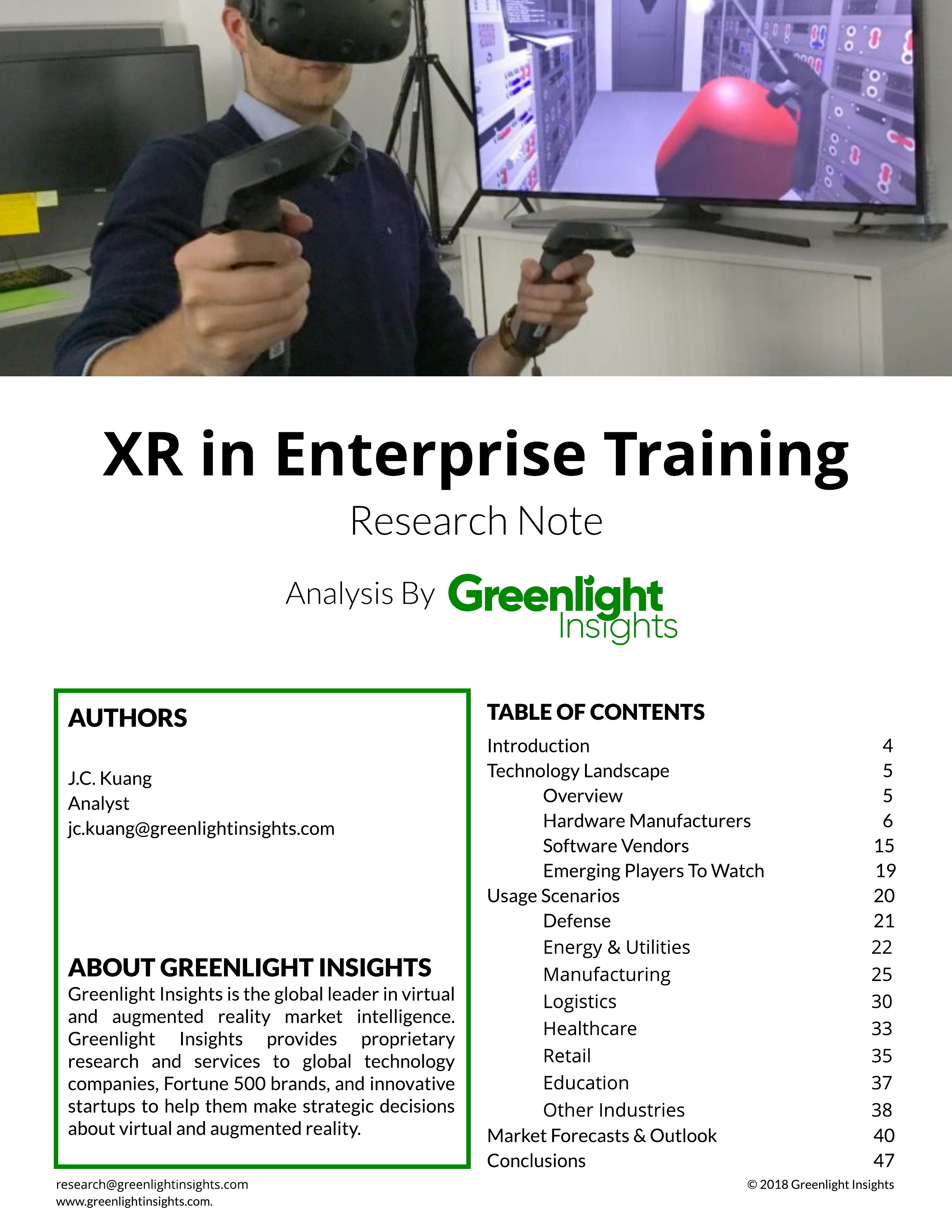 ---
Table of Contents
1. INTRODUCTION
1.1. VR & AR IN THE ENTERPRISE TRAINING MARKET
2. MARKET OUTLOOK
2.1. FORECASTS, 2018 - 2022
3. TECHNOLOGY LANDSCAPE
3.1. HARDWARE VENDORS
3.2. SOFTWARE VENDORS BY ARCHETYPE
3.3. VENDORS TO WATCH
4. USAGE SCENARIOS BY INDUSTRIES
4.1. DEFENSE
4.2. ENERGY & UTILITIES
4.3. MANUFACTURING
4.4. LOGISTICS
4.5. HEALTHCARE
4.6. RETAIL
4.7. EDUCATION
4.8. AUTOMOTIVE

---
Companies Mentioned:
Oculus, HTC, Google, Microsoft, Pimax, StarVR, ODG, Meta, Vuzix, Daqri, Epson, Realwear, Apple, Magic Leap, Varjo, Immersive Technologies, Bohemia Interactive, STRIVR, Mursion, Bioflight VR, AiSolve, Talespin, Hewlett-Packard Enterprise, Autodesk, CAE, Augmedix, Ubimax
---
---
Learn the benefits of insights platform