On June 28, Greenlight provided industry insight of VR and AR applications for sensors at the Sensors Expo & Conference. Analyst Alexis Macklin covered projection highlights from Greenlight's most recent market reports.
Delving into emerging trends like inside-out tracking, camera improvements, and new tools, the presentation provided a VR-centric perspective on not only areas where sensors are heavily relied upon for headsets and VR tech but also on places where new additions will shape the growth of the immersive industry.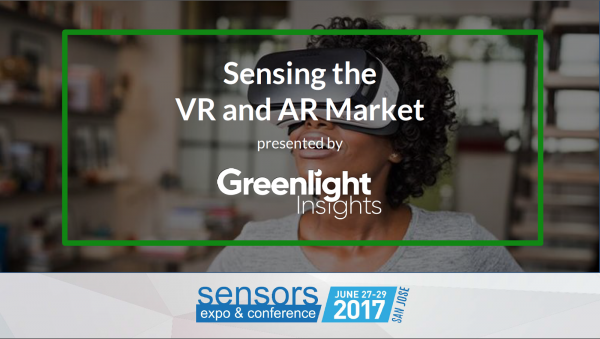 Projections:
One indicator of the increasing integration of VR is the consistent revenue growth it has seen. Greenlight projections predict VR global revenue to reach $7.2B in 2017, hiking at a steep rate to $75B by the end of 2021. Specifically, global headset adoption is expected to increase to 58% of the $75B revenue in 2021. KPI's that influence this projection include usage and familiarity of VR, which has increased over 18% globally in the last year.
While AR remains a newer field of immersive technology, it also provides a wider variety of potential implications. Greenlight Insights will announce a five-year AR forecast by the end of the year in tandem with the 2017 Augmented Reality Industry Report. 
Emerging Trends:
Along with projections comes emerging trends. One of the most salient trends is the development of inside-out tracking. Headset manufacturers are looking to incorporate sensors inside of HMDs to achieve 6 DoF and room-scale without the external hardware. This will require less set-up and initial cost for consumers to enjoy a high-quality VR experience. 
Merged or mixed reality will be another opportunity for the development of advanced sensors for VR headsets. Intel and Microsoft are working on merged/mixed reality headsets that will have a camera on the outside of the headset to incorporate real-world objects into the VR experience.
As headset technology improves, accessories like controllers and new tracking technology will be required to support tetherless experiences.
One of the most popular implementations of AR smart glasses is within enterprise use cases, creating a need for robust and reliable sensors within factories and workstations alike.
As a new and rapidly expanding industry, AR/VR has become a pigeonhole for a vast variety of technology, content, and solution providers working in the immersive space.
To learn more about market definitions, landscape segmented into a five-year market forecast, and key M&A/investment trends, pre-order the Greenlight Insights Augmented Reality Industry Report. 
This report will also feature Greenlight Insights analysis on the opportunities that exhibit the highest long-term potential, and how recent events are transforming the tech landscape.