Despite comprising less than 8% of all exhibiting companies at Consumer Electronics Show (CES) 2020 in Las Vegas, augmented reality consistently ranked as the number one most discussed topic on social media during the conference. Major milestones for immersive technology achieved in 2019 have resulted in increased excitement around the potential for AR to disrupt the technology landscape, especially given its close relationship to the mobile computing landscape.

However, the bleeding edge nature of technology on display at CES also gave rise to several new APAC-based startups demonstrating functional AR headwear in a glasses form factor. Exhibitors such as Pacific Future, 0glasses, MADGaze, and ANTVR, among others, peppered the floor with colorful, tinted head-mounted displays powered by waveguide-based optical systems.
As previously stated by Greenlight Insights, while simpler, HUD-style functionality has been successfully productized among smartglasses devices in both consumer and enterprise markets, the next generation of devices will likely see little more than marginal iterations on this concept. This new wave of first-generation products is indicative of this concept.
Our Analysis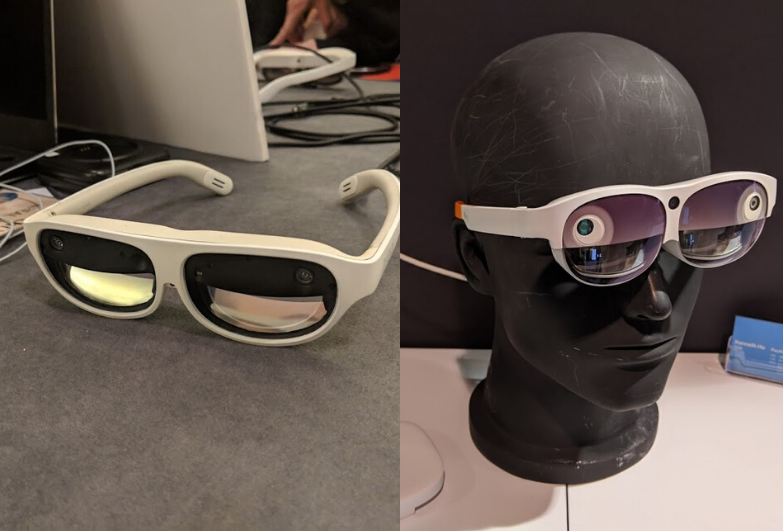 While augmented reality as a concept has left the hype cycle behind and largely cemented itself as an established technology, the concept of mass market-ready smartglasses has already taken hold in the public consciousness thanks to major releases from companies like Bose and North, as well as ongoing speculation around a potential future release from Apple.
Furthermore, the mostly favorable attention received by smartglasses company nReal has exercised a clear influence on many of the aforementioned smartglasses companies, as many designs on the floor were reminiscent of the now-iconic nReal Light.
The rapid uptick in exhibitors showing ostensible smartglasses-style products is indicative of a new hype cycle centered specifically around the smartglasses category. Products at CES are rarely without defects, and only a small number are viable for a broad consumer release, but smartglasses OEMs are clearly highly motivated to advance research into engineering challenges, challenges which even industry veterans like Michael Abrash admit to having no easy solutions.
AR stakeholders should be acutely aware of these challenges and have a deep understanding of the limited addressable market for products in this generation and in the near future. Unlike these smartglasses products augmented reality executed via pass through, as in smartphones, is expected to grow and become more ubiquitous in subsequent shows at CES.
Want all the highlights and analysis from CES 2020? Visit Greenlight Insights' CES 2020 Trends Reports Hub, where you can get all five reports on what's coming next in virtual reality, augmented reality, technology, innovation, and more.

Register for CES 2020 xR Wrap Up with Greenlight Insights to learn more about the growing technology trends that will affect the xR industry in the year ahead.