As the smartphone market becomes increasingly saturated, with less significant hardware innovations, a market opportunity is emerging for VR products, both in consumer and enterprise markets. Nowhere was that more apparent than at the 2016 Mobile World Congress (MWC) in Barcelona, Spain this weekend.
Each year, MWC hosts mobile professionals from 200 countries in an event representing the broader mobile ecosystem, including handset and device makers, software companies, equipment providers and Internet companies. This year's event had some significant VR product announcements.
In this post, we review three of the biggest pieces of news from the conference.
Despite One Million Viewers, 360 Video Still In Infancy
Mark Zuckerberg, CEO of Facebook, owner of virtual reality company Oculus VR, shared the successes from his company's collaboration with Samsung Gear VR, including new stats about 360 video consumption. Zuckerberg explained that "already over a million people are watching 360 video on Facebook, more than 20,000 of them have been uploaded, and hundreds of new ones are added every day."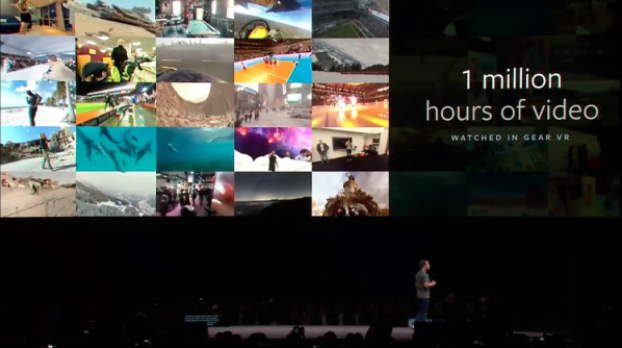 Source: Mobile World Conference
For our 2016 United Kingdom Consumer Virtual Reality Report, we asked 1,000 respondents about their 360 video viewing habits. Less than 5% of the respondents report regularly watching 360-degree videos more than three times per week.
Samsung Enter the 360 Degree Camera Market
Samsung is entering the nascent 360-degree imaging market with a new camera called the Gear 360, a tiny, double-lensed sphere of a camera that's supposed to make shooting and sharing 360-degree photos and videos easy and approachable. The camera will be available in the second quarter of this year.
Consumer VR cameras like the Samsung Gear 360 will do a lot to address a major problem facing the industry right now - the capital intensity of creating VR content. And now with Google, Facebook, and Samsung all making significant investments to support the production of 360 videos, we expect positive content creation trends contributing to the future success of the medium. However, the long-term growth of the market for consumer VR cameras will depend on overcoming obstacles all along the value-chain.
Oculus Confirms Virtual Reality Will Be Social
Oculus VR officially announced the Social VR team from Facebook. A statement from the company reads: "Facebook has created a Social VR team focused entirely on exploring the future of social interaction in VR. They'll explore how people can connect and share using today's VR tech, as well as long-term possibilities. They will work closely with Oculus and other teams at Facebook to build the foundation for tomorrow's social VR experiences on all platforms."
In our 2016 United Kingdom Consumer Virtual Reality Report, 38% of Gen Z respondents reported that they'd want to play VR games with other players. Now with a dedicated team, expect to see plenty more from the company in this field in the near future.
Other important news:
HTC's virtual reality headset, the Vive, goes on sale this April for $799. That's $200 more than the rival Oculus Rift VR headset.

LG is getting into the VR game with its own headset, the

LG 360 VR

. It's much smaller than other headsets we've seen and it plugs into your phone, instead of you putting your phone inside.