2016 was another year of big numbers for VR/AR—the year closed out with over $1.8B in funding flooding into the space with an increase in the number of later stage rounds and 23 M&A deals.
While skeptics may question the attractiveness of VR and AR as an industry, it's important to keep in perspective that the industry is still maturing, with most deals being Seed or Series A funding rounds when many sub-sectors proving to be very high-growth.
"2016 was record breaking investment year for VR/AR with $1.8B in funding and 23 M&A deals." Click to Tweet
Although records were not just broken—they were smashed—VR/AR only holds a tiny 1% of total venture funding. Furthermore, while we're seeing company growth, late stage deals only account for about a tenth of all deal volume.
Furthermore, the 2016 exit market for VR/AR companies was a mixed bag. While there was a significant increase in the number of M&A deals in 2016, there were no new IPO filings.
As we look to 2017, Greenlight Insights is optimistic about the growing role of virtual reality and the impact new technology companies will have on the B2C and B2B opportunities. You can see our report on the 2017 market outlook here.
Dollars and deals
In 2016, venture funding of VR/AR companies reached $1.8B, ending significantly above 2015.
While total venture funding VR/AR showed major gains in 2016, VR/AR still only holds 1% of total venture funding. Despite the categories steadily growth since 2011, compared to more mature industries, such as Transportation (9%) and FinTech (3.5%), VR/AR is still not mainstream enough for most investors.
Source: Greenlight Insights Funding Database
Note: Only includes disclosed deals >$100K; VR/AR data based on Greenlight Insights data
In 2016, deals continued to be early stage deals, with more than 85% of all deals being Seed or Series A stages.

Source: Greenlight Insights Funding Database
Note: Only includes deals >$100K; data through December 31, 2016
In 2016, Seed and Series A deals continued to account for the majority of deals. Series C and later stage deals represented only 7% of all deal volume. Nevertheless, there where many companies that closed a deal in 2015 raised at least one more round in 2016. For example, NextVR and Blippar each closed deals in 2016, Series A and Series B respectively, and then Series B and C rounds in 2016.
The six largest deals of the year in VR and AR totaled $395M and $794M, respectively.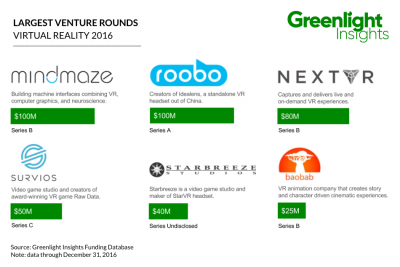 Source: Greenlight Insights Funding Database
The six largest VR deals of the year totaled $395M, representing nearly 50% of total VR funding in 2016. Mindmaze and Roobo closed the largest deals of the year with $100M each in new funding. Four of the six largest deals were VR content companies: NextVR, Survios, Starbreeze, and Baobab Studios. With low consumer HMD adoption this year, investors are betting big that there will be continued headset uptake by consumers and engagement with content.
The six largest AR deals of the year totaled $1B, representing more than 90% of total AR funding in 2016. Magic Leap closed the largest deal of the year with $794M in new funding, bringing its total amount raised to an impressive $1.4B.
The top six categories accounted for 63% of all VR funding in 2016, with HMDs continuing to account for the largest share.

Source: Greenlight Insights Funding Database
Note: Only includes deals >$100K; data through December 31, 2016
Aided by huge investments in content production studios, funding in the gaming, entertainment, and live VR broadcasts categories totaled more than that in the HMDs, capture equipment and input tools categories combined. This reflects the growing emphasis on and the importance of creating a consumer-centric content to promote adoption and engagement with recently released devices.
Exits
We tracked 23 M&A deals throughout 2016, doubling in transaction volume from 2015.

Source: Greenlight Insights tracking and analysis based on news reports
Acquisitions for 2016 were primarily focused on tethered solutions, with more emphasis placed on consumer markets.
This is in keeping with current requirements needed to run robust VR experiences at the moment. We see that this will shift over the coming years as mobile platforms become more stable.
With investments on inputs as the primary area of M&A activity, larger players continue to build out their technology position. Once the technology is stabilized we hope to see more activity around key vertical markets in both the consumer and enterprise sectors.
Summary
Venture funding for VR/AR companies in 2016 raised $1.8B, surpassing 2015. This represents a compound annual growth (CAGR) from 2011-2016 of 71.38%. There were 475 deals, most of which were for early stage companies. The median deal size was $1M.
Major themes Investment in HMDs still remains the highest of any category, partially due to the capital-intensive nature of producing hardware products. In terms of growth from 2015, there has been a noticeable level of investor interest in content producer as the industry realizes that for VR/AR products to really take off, consumers will soon demand need to have a significant amount of use for the hardware. As the industry faces growing need to offer compelling content, specialty studios and input technologies will play a key role in enabling engagement with the HMDs.
Exits activity In 2016, there was a spike in M&A transactions relative to 2015. Yet the 2016 exit market was a mixed bag with only 23 tracked and disclosed deals valued at $100M. Public markets are not yet a viable exit with no new market capitalization created through VR/AR company IPOs.
The Greenlight Insights VR/AR Funding Database is available as part of an annual Research Subscription. The Funding Database includes a dataset encompassing individual deals back to 2011, provides details on each of the funded companies, and profiles investors based on deal volume. The annual Research Subscription includes access to our full suite of market, territory, and sector reports. All reports feature original research conducted by our team of in-house analysts. Plus, your team will have access to our senior analysts for custom inquiries.

Please visit greenlightinsights.com/become-a-client to learn more.