Virtual Reality is a hot topic for marketing professionals. One challenge for those who seek to employ this emerging medium for business objectives is there are few thought-leaders in the industry who understand the current state of the technology, consumer attitudes and usage, and how innovative marketers are using virtual reality today. This is why Greenlight Insights held a webinar on June 20, "Understanding the Virtual Consumer," featuring Erica Bishaf, Research Director at Greenlight Insights with special guest, Joanna Popper, Singularity University.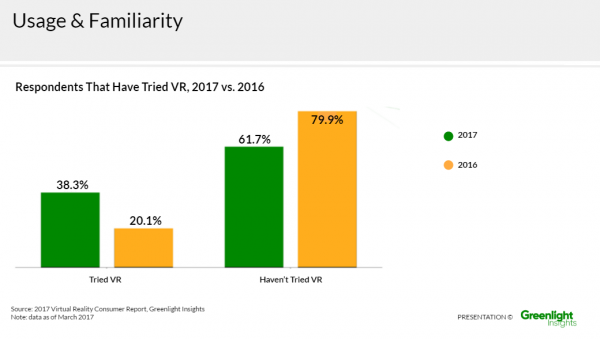 The panel focused and expanded upon the latest findings from Greenlight Insight' 2017 Virtual Reality Consumer Survey. Now in its third year, the 2017 Virtual Reality Consumer Survey provides insights into a broad scope of topics relating to consumers and virtual reality.
Bishaf pointed out that familiarity and direct trial experience is increasing. In 2017 survey, 38 percent of consumers said they tried VR, which is over a 15 percent increase from 2016 with 20 percent of consumers said they tried VR. Bishaf warned that although VR understanding is increasing, VR is still years away from mainstream adoption and education will be needed.
"Initiatives to build brand equity are still needed by the headsets and platforms," she said. "In the study, we saw those consumers who report being highly informed and experienced with the technology were confused about Microsoft, Apple, and Snap."
Popper shared about what it will take to move consumer adoption forward. Popper talked about the importance of really great content that will drive penetration and engagement. An example was native social experiences, such as what can be found Altspace, High Fidelity, and Facebook's Spaces.
"Social media extensions that draw people into a VR experience will be important," Popper said. "People are finding that these experiences for much longer than other types of VR experiences."
Popper also highlighted the importance of building a deeper connection to VR marketing, including experiential marketing.
"When looking at experiential marketing, how do you make it live beyond that moment?" said Popper. "The people in the experience will be the most engaged but need to extend beyond with social."
Greenlight Insights Industry Analyst Alexis Macklin, who covers emerging technology trends at the intersection of immersive technologies and the entertainment industry, lead a panel discussion on how brands and marketers can best reach consumers. The panel zeroed in on how VR consumers have changed and how to reach them.
"In the past, consumers who purchased VR headset were largely male and gamers," Bishaf said. "VR is becoming more diverse with many VR purchasers identifying as creatives, meaning they like videography, photography and other types of content creation."
The webinar, which will soon be available for replay on the Greenlight Insights website. Learn more what consumers think about VR in the 2017 Virtual Reality Consumer Report.