Before today, Apple - which in 2016 occupied 18% of the smartphone market sales and 7% of the PC market sales - has been fairly silent on its intentions for AR and VR. The only previous comments came from CEO Tim Cook, who was bullish on AR and dismissive of VR. All of this changed with the WWDC 2017 keynote address.
Apple's ARKit
ARKit is Apple's AR dev kit for iOS. It boasts rapid and consistent motion tracking, meaning that augmented objects are more likely to look like they are standing on physical surfaces. The kit will support Unity, Unreal Engine, and SceneKit, allowing work on a wide scale of projects. The program will also provide estimations for scale and ambient lighting, again designed to mesh the augmented image into its real background.
The really important factor regarding ARKit is that it is designed for the entire iOS spectrum. This means that Apple wants the software running on all (or nearly all) of its hardware. According to the company, this will make ARKit the largest AR platform in the world. Given that there were over 90 million iPhone users alone in the U.S. in 2016, this is an impressive potential install base.
 VR Ready Computers
Apple is bringing VR development to its PCs. The latest iMac will include an AMD Radeon Pro 580 GPU for high-end users, enabling VR to run smoothly on the system. Apple is also releasing an iMac Pro, an ultra-high end version of the Mac. This will support even more powerful processors, in addition to AMD's latest Vega graphics. To help maintain optimal PC performance, Apple has developed an improved cooling system. It is more efficient that the rest of the iMac lineup and will allow the component more power, all while maintaining a quiet workflow. The keynote stressed that both of these machines are intended for use in VR content creation.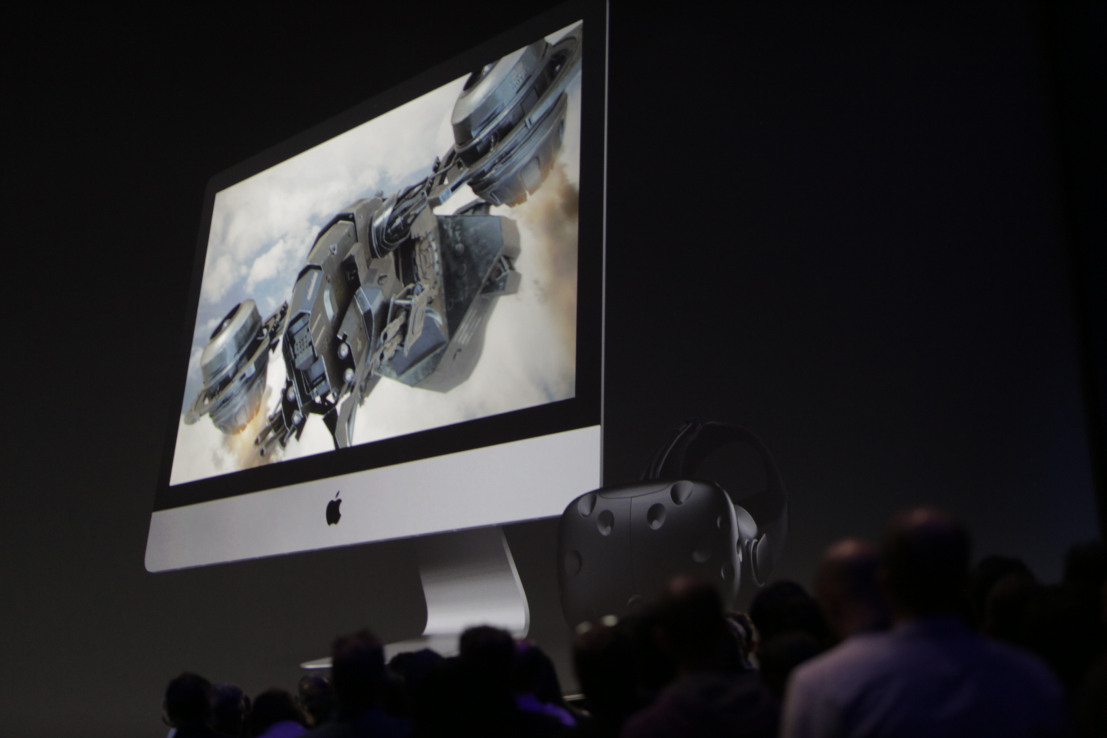 In addition to this, Apple will enable VR on its laptops through external graphics enclosures. This will allow users to hook an AMD Radeon RX 580 GPU to their Macbooks via Thunderbolt.
This announcement is perhaps just what Apple needs to lift its declining PC and laptop numbers. In the past few years, Apple has been seen as losing its innovative edge. Allowing users access to leading VR creation tools may have a strong positive effect on certain demographics - namely creatives - who are eager to try VR and tend to want Apple products.
VR Content Creation Tools
Apple is going beyond making VR ready PCs. The company made a series of announcements regarding expanded VR development capability on its machines. Programs like SteamVR will now work with Mac OS. This means that popular PC headset, the HTC Vive, will work on Apple. No plans for the Oculus Rift were shared.
In addition, Apple's Metal 2 graphics API is being designed with VR in mind. This includes a VR-optimized display pipeline, viewport arrays, system trace stereo timelines, GPU queue priorities, and frame debugger stereoscopic visualization. Apple is also offering its Thunderbolt 3 external graphics kit for developers, which will include an AMD RX 580.
Lastly, Apple announced a partnership with Unreal and Unity to enable those SDKs to work with its platform.
In one keynote, Apple has gone from being a spectator to a player in the VR and AR space. In the past, Apple has promoted its own software and operating systems over others. This level of partnership, from Steam to Unity, is strange for the company. It is an atmosphere of inclusiveness that indicates that Apple wishes to be part of the VR space instead of leading it - at least for the moment. ARKit is more of a traditional Apple announcement, signaling a large conversation of existing company hardware towards creating an AR platform. Further details regarding which Apple devices will support ARKit will speak to the size of Apple's "largest platform."
One Resource to Track the Entire Industry
Greenlight Insights' analysts produce an advanced research service designed to provide a complete, comparative view of the future outlook for the augmented reality technologies and AR-enabled business models. Both mobile and headworn AR will grow in 2017 as new hardware vendors and application developers enter the sector.
Read more about AR technology leaders and promising use cases in the 2017 Augmented Reality Industry Report.