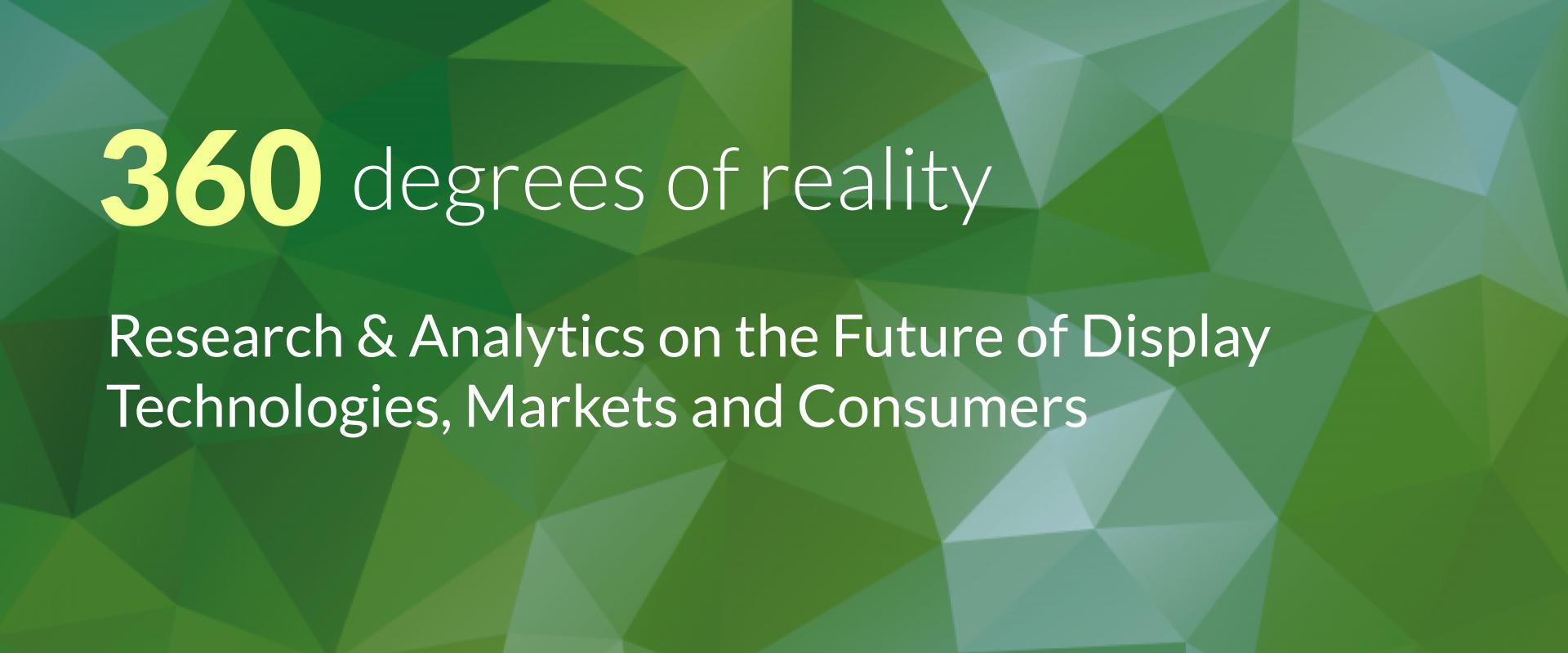 Trusted by the World's Leading Innovators
---

---
Make Informed Decisions.
Using comprehensive market data, Greenlight Insights provides strategic intelligence to innovative companies through syndicated research, services, and events.
---
Reports & Data
We offer several reports and data products with insight gained through our category leadership and rigorous research methods.
Services
We bring together proprietary data, problem-solving, hands-on experience, and fresh perspective to each engagement.
Events
Our events provide executive programs to help you get actionable advice, fast track initiatives, and enhance your network.
LATEST RESEARCH PUBLISHED BY GREENLIGHT INSIGHTS
| Date | Report Title |
| --- | --- |
| October 1, 2021 | 2021 Smart Glasses Market Review |
| June 18, 2021 | Global Immersive Camera Industry Report, 2021 |
| May 9, 2021 | Global Virtual Reality Industry Report 2021 |
| July 13, 2020 | Worldwide 360 Camera Market Report, 2020 |
| May 13, 2020 | Quarterly Virtual & Augmented Reality Financial Health Report - Q2 2020 |
| March 11, 2020 | The State of Location-Based Virtual Reality in China 2020 |
| March 11, 2020 | Greenlight Insights Augmented Reality Head-Mounted Display Taxonomy, 2020 |
| February 26, 2020 | Location-Based Virtual Reality: 2020 Q1 Update |
| February 26, 2020 | Worldwide Virtual Reality HMDs Forecast, 2020-2024 |
| February 18, 2020 | 2020 Virtual Reality Industry Report |
| February 14, 2020 | Growth Opportunities in Virtual Reality for Physical Therapy |
| February 12, 2020 | China Virtual Reality HMD Market 2020 Analysis and Vendor Profiles |
| February 11, 2020 | Quarterly Virtual & Augmented Reality Financial Health Report |
| February 7, 2020 | Greenlight Insights Location-Based Virtual Reality Taxonomy, 2020 |
| February 5, 2020 | VR/AR Remote Collaboration & Visualization, 2020 |
| January 27, 2020 | Greenlight Insights Virtual Reality Head-Mounted Display Taxonomy, 2020 |
| January 12, 2020 | VR/AR Displays at CES 2020: Where To From Here? |
| January 12, 2020 | CES 2020: A New Narrative for Chinese VR/AR Companies |
| January 10, 2020 | VR/AR & Location-Based Entertainment at CES 2020: Building Better Business |
| January 10, 2020 | Optics Technologies for XR Head-Mounted Displays: Are We There Yet? |
| January 5, 2020 | AR Smart Mirrors at CES 2020: A New Paradigm in Customer Experience |
| January 2, 2020 | AR Cloud 2020: The Next Frontier for Augmented Reality |
| January 1, 2020 | 2019 VR/AR Year-End Funding Review |
| December 16, 2019 | 2020 VR Headset Owners Segmentation Report |
| December 14, 2019 | I/ITSEC 2019: Virtual & Augmented Reality Highlights |
| November 26, 2019 | IAAPA 2019: Virtual Reality Highlights |
| November 14, 2019 | Augmented Reality Task Guidance Solutions 2019 |
| November 12, 2019 | VR & AR Applications for Medical Simulations |
| November 4, 2019 | Immersive CAD Solutions 2019 |
| November 3, 2019 | Adobe MAX 2019: Unleashing Creativity with Immersive Media |
| October 28, 2019 | 2019 Virtual Reality Industry Report, Enterprise Edition |
| October 25, 2019 | Best Practices for Implementing Location-Based XR Use Cases: Key Insights from xRS Week 2019 for Entertainment Leaders |
| October 13, 2019 | Greenlight Insights xRS Week 2019: Executive Summary Report |
| September 12, 2019 | U.S. Telecom Operators Look for 5G Differentiation Through AR and VR Service Portfolio |
| September 5, 2019 | Oculus Connect 2019: Virtual & Augmented Reality Highlights |
| September 3, 2019 | Leading Content in Location-Based VR Entertainment |
| August 7, 2019 | 2019 Light Field Displays |
| August 2, 2019 | Siggraph 2019: Virtual and Augmented Reality Highlights |
| July 14, 2019 | 2019 H1 Virtual & Augmented Reality Mergers and Acquisitions Report |
| July 9, 2019 | 2019 Location-Based Virtual Reality Industry Report |
| July 8, 2019 | Location-Based Virtual Reality: 2019 Q2 Update |
| July 4, 2019 | 2019 Immersive Displays Industry Report |
| July 4, 2019 | 2019 VR/AR Mid-Year Funding Review |
| June 28, 2019 | Augmented Reality Head-Up Displays for Automotive 2019 |
| June 15, 2019 | LiveWorx 2019: Digital Transformation Meets Augmented Reality |
| June 14, 2019 | E3 2019: Virtual & Augmented Reality Highlights |
| June 14, 2019 | Augmented Reality in Location-Based Entertainment |
| June 7, 2019 | WWDC 2019: A Roundup of Apple's Augmented Reality Announcements |
| June 4, 2019 | Worldwide Augmented Reality HMDs Forecast, 2019-2023 |
| June 3, 2019 | 2019 Virtual Reality Industry Report, Consumers Edition |
| May 28, 2019 | AWE USA 2019: Virtual & Augmented Reality Highlights |
| May 28, 2019 | The Case for Augmented Reality in Warehouse Logistics |
| May 18, 2019 | 2019 Location-Based xR Venue Operators Survey Report |
| May 7, 2019 | 2019 Virtual Reality Total Market Forecast |
| May 6, 2019 | Optical Modules for Augmented Reality & Virtual Reality Displays 2019 |
| April 29, 2019 | F8 2019: The Augmented & Virtual Reality Perspective |
| April 28, 2019 | The Snapchat Augmented Reality Camera |
| April 23, 2019 | 2019 Augmented Reality Industry Report |
| April 22, 2019 | 5G, Cloud, and Augmented & Virtual Reality |
| April 20, 2019 | Research Note: Virtual Reality at Internet Cafes |
| April 11, 2019 | NAB 2019: Key Themes in Immersive Media |
| April 2, 2019 | Virtual Medicine 2019: Virtual Reality Applications in the Healthcare Industry |
| April 1, 2019 | Immersive Product Marketing Solutions 2019 |
| April 1, 2019 | Worldwide Virtual Reality HMDs Forecast, 2019-2023 |
| March 25, 2019 | China VR/AR Head-Mounted Display Forecast, 2019-2023 |
| March 22, 2019 | GDC 2019: xR & The State of Play |
| March 14, 2019 | Is Smaaash Entertainment the Next Location-Based Virtual Reality Mega-Chain? |
| March 12, 2019 | 2019 Augmented Reality Consumer Report |
| March 12, 2019 | 2019 Virtual Reality Consumer Report |
| March 7, 2019 | Location-Based Virtual Reality: 2019 Q1 Update |
| February 25, 2019 | MWC 2019: Virtual & Augmented Reality Conference Report |
| February 13, 2019 | 2019 VR Headset Owners Segmentation Report |
| February 3, 2019 | 2019 Smartglasses Market Review |
| January 31, 2019 | 2018 VR/AR Year-End Funding Review |
| January 29, 2019 | Spherical Cameras Market Review 2019 |
| January 23, 2019 | Location-Based VR Highlights from CES 2019 |
| January 4, 2019 | CES 2019: Spherical Cameras Review |
| January 2, 2019 | Optics for xR Displays Review 2019 |
| December 28, 2018 | Head-Mounted & Large Displays for xR @ CES 2019 Report |
| December 27, 2018 | The State of Location-Based Virtual Reality in China 2019 |
| December 3, 2018 | 2018 Year-End xR Trends Report |
| November 23, 2018 | xR & Training and Simulation Market 2018 |
| November 15, 2018 | Worldwide Virtual & Augmented Reality HMDs Forecast, 2018–2022 |
| November 7, 2018 | Forecast: Worldwide xR Spending by Enterprise Firms, 2019-2023 |
| September 23, 2018 | 2018 Virtual Reality Industry Report, Fall Edition |
| September 3, 2018 | Location-Based Virtual Reality: 2018 Market Report |
| September 1, 2018 | 2018 Global Immersive Displays Market Report |
| August 20, 2018 | Siggraph 2018: Immersive Content |
| August 1, 2018 | The Future of VR eSports: Market Report 2018 |
| July 3, 2018 | 2018 VR/AR Mid-Year Funding Review |
| June 23, 2018 | Location-Based Virtual Reality: 2018 Q2 Update |
| May 13, 2018 | 2018 Augmented Reality Industry Report |
| April 26, 2018 | 2018 Augmented Reality Total Market Forecast |
| April 26, 2018 | xR in Enterprise Training 2018 |
| April 19, 2018 | 2018 Virtual Reality Industry Report, Spring Edition |
| April 16, 2018 | 2018 Virtual Reality Total Market Forecast |
| April 4, 2018 | 2018 Virtual Reality Consumer Report |
| February 21, 2018 | Location-Based Virtual Reality: Q1 2018 Update |
| January 21, 2018 | Augmented Reality Smart Glasses for Consumers & Enterprise 2018 |
| January 16, 2018 | 360 Video, Audio & Tools Market Report 2018 |
| January 15, 2018 | 2018 China Virtual Reality Report |
| December 25, 2017 | Virtual Reality 2017 TrendPack |
| November 16, 2017 | Location-Based Virtual Reality: 2017 Q4 Update |
| September 11, 2017 | 2017 Virtual Reality Industry Report, Spring Edition |
| September 5, 2017 | Google Daydream: Daydreaming in VR/AR |
| August 28, 2017 | Microsoft Mixed Reality: The Windows VR Ecosystem |
| August 23, 2017 | Apple ARKit: What It Means & Why It's Important |
| August 22, 2017 | 2017 VR/AR Mid-Year Funding Review |
| June 9, 2017 | 2017 Location-Based Virtual Reality Industry Report |
| May 24, 2017 | A 360 View of the Virtual Reality Camera Market |
| April 6, 2017 | The Reality of Virtual Reality in China |
| March 21, 2017 | 2017 Virtual Reality Industry Report, Japan Edition |
| February 11, 2017 | 2017 Augmented Reality Industry Report |
| January 28, 2017 | 2017 Virtual Reality Consumer Report |
| January 27, 2017 | 2017 Virtual Reality Industry Report, Spring Edition |
| January 17, 2017 | 2016 VR/AR Year-End Funding Review |
| November 23, 2016 | The Macro Context of China's Virtual Reality Market |
| November 13, 2016 | 2016 Virtual Reality Consumer Report |
| November 13, 2016 | 2016 Virtual Reality Industry Report, Fall Report |
| April 12, 2016 | 2016 Virtual Reality Industry Report, Spring Edition |
| January 14, 2016 | 2016 Virtual Reality Consumer Report, United Kingdom Edition |
| November 4, 2015 | 2015 Virtual Reality Consumer Report |
| October 14, 2015 | 2015 Virtual Reality Industry Report, Fall Edition |
| July 1, 2015 | 2015 Virtual Reality Industry Report, Spring Edition |
View More Research