Microsoft did not discuss virtual reality support for its newly announced Xbox One X. However, the technology giant did share its vision for the new gaming console and its upcoming Windows Mixed Reality platform at E3.
The Electronic Entertainment Expo, commonly known as E3, is one of the largest industry tradeshows where consumer electronics manufacturers, software developers, and publishers from the video game industry present new and upcoming products to retailers, analysts, and members of the press. In recent years, E3 has been a key event for introducing new VR technologies. For example, the Sony announced the released date and a slate of VR games for the PlayStation VR, which was officially launched in November 2016 and is currently enjoying higher-than-expected sales.
This year, Greenlight Insights expects at new major VR-related announcements, particularly when Sony holds its E3 2017 conference. However, analysts and press have been disappointed at the lack of announcements from Microsoft related to the newly announced Xbox One X (formerly Project Scorpio).
Xbox One X has been touted as a VR-ready system since inception. At E3 2016, Xbox head Phil Spencer highlighted the ability of then-Scorpio to play VR games. Even back then, however, Spencer was pumping the brakes on 2017 expectations: "The best place for VR innovation is the PC." The company released a statement months later stating that mixed reality experiences would come to Xbox One X in 2018. Shortly before E3, Microsoft released a statement that no VR announcements would be made.
Microsoft seems to be emulating Apple in its approach to console VR. Rather than letting innovation play out in the console space (PSVR), the company is waiting to release a refined product. Since no definites of the Xbox One X headset are known, the following is educated speculation, based on what is known.
[table id=6 /]
The regular PS4 (less powerful than the Pro) can run immersive VR experiences at the bare 60 FPS. Most experiences run higher, 90-120 FPS. The resolution is 1080p and the latency is 18ms. If this is possible on PSVR, then more will be possible on Xbox One X. That being said, Microsoft's newest console is still less powerful than a dedicated gaming PC.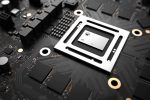 So expect the Xbox One X to surpass PSVR in terms of performance but not reach the heights of the HTC Vive - at least not in terms of raw graphical processing power. What Microsoft's console has going for it is time. The Vive and the Rift, while impressive, are first generation devices. The tech is there but basics like design and intuitiveness are still being worked out. The same can be said for PSVR. Microsoft's headset will have the benefit of hindsight. The company has had the time to examine what works and what does not.
Microsoft's Windows Mixed Reality
Microsoft's early comments indicate that this is the case. When asked about tethered technology, the company stated its "belief that console VR should be wireless." Microsoft has also shifted its language from VR to MR. Given the company's investments in its Windows Mixed Reality platform, it makes sense to see the Xbox line as an eventual extension. This also means that Microsoft may not necessarily have a first party headset for the Xbox One X.
Windows Mixed Reality is designed to run on multiple devices, including AR and VR headsets. Companies like Lenovo, Acer, HP, and Dell are creating VR HMDs while Hololens remains the sole AR platform. None of the announced headsets are wireless. Microsoft is waiting on tech that currently does not exist. Plans for the first all-in-one VR headset were announced at Google I/O (between Google and HTC) but no clear product details have been announced. The device is still slated for release later this year.
Mixed reality opens another intriguing door: Portability. The Nintendo Switch is currently selling above expectations with its ability to be used as a console and a portable system. A mixed reality headset with house-scale VR would carry some of that same appeal. Users could travel without fear of crashing into obstacles. The only question remaining would be how far the system could wander from the base console, or if Microsoft will sever all connections for its own all-in-one?
Given the pace of VR technology, it is a safe assumption to rule out another PSVR. The Xbox One X will feature a headset unlike any on the market today. Once the refined VR headset tech is there, the console hardware is already waiting.